Regular price
$198.00 USD
Regular price
Sale price
$198.00 USD
Unit price
per
Sale
Sold out
🇺🇸 PROUDLY MADE IN AMERICA 🇺🇸
FAST FREE SHIPPING TO ALL 50 STATES
FREE SHIPPING. AMERICAN MADE ONE (1x) 3D AC ENGINE AND CHASSIS WIRING HARNESS FOR KINROAD AND RUNMASTER 150CC KART MODELS

Absolutely no splicing or soldering.
Share
View full details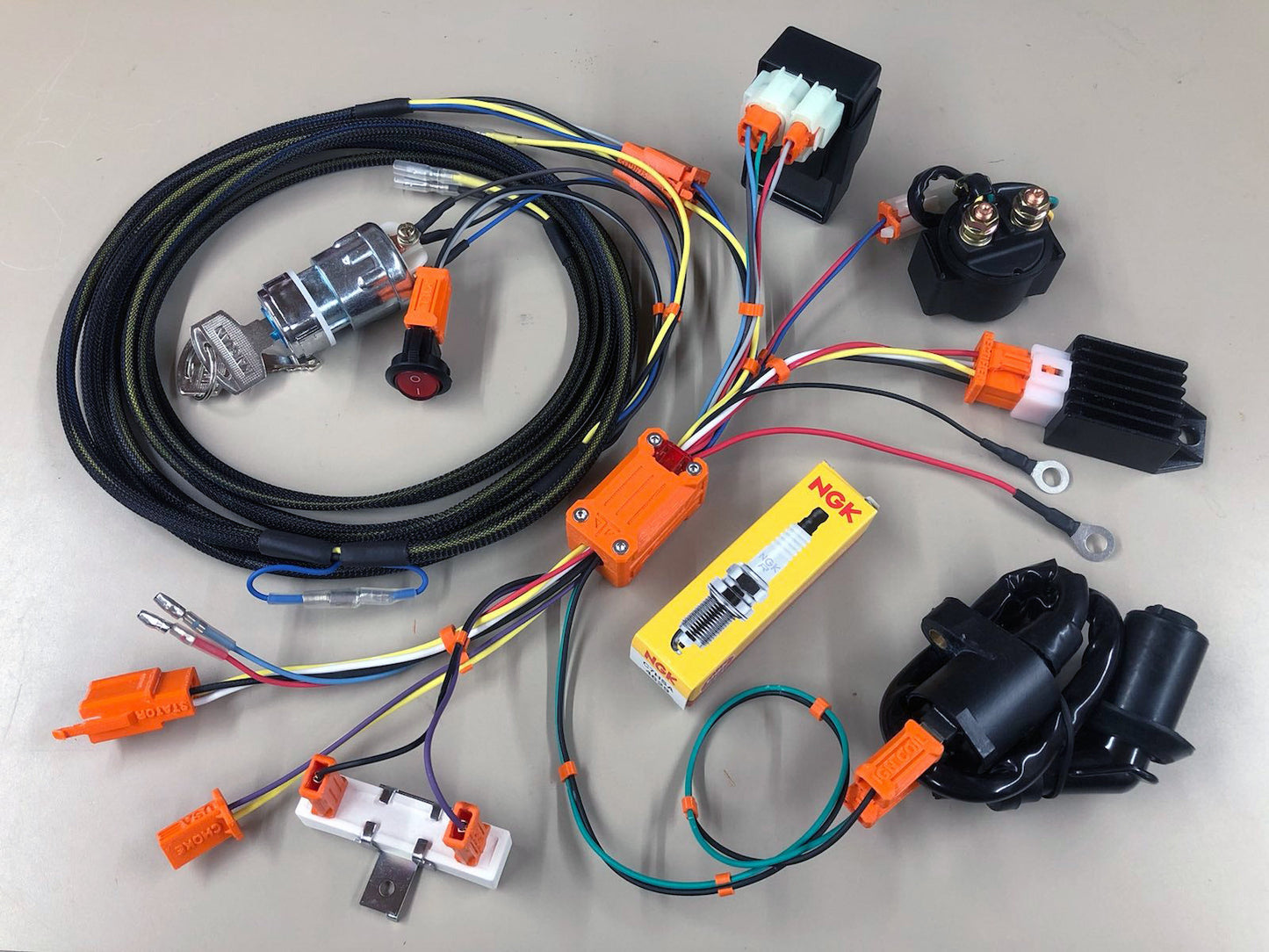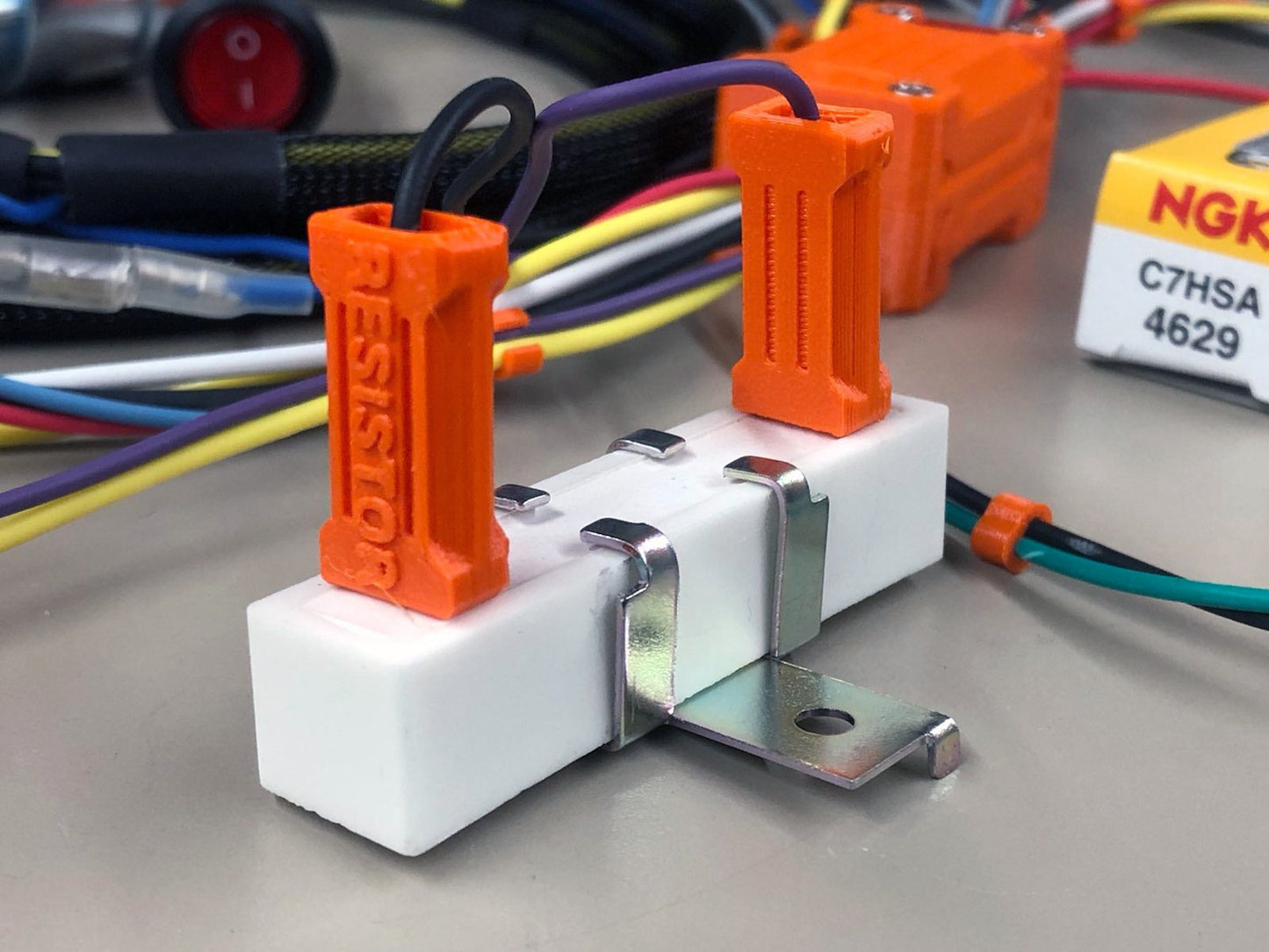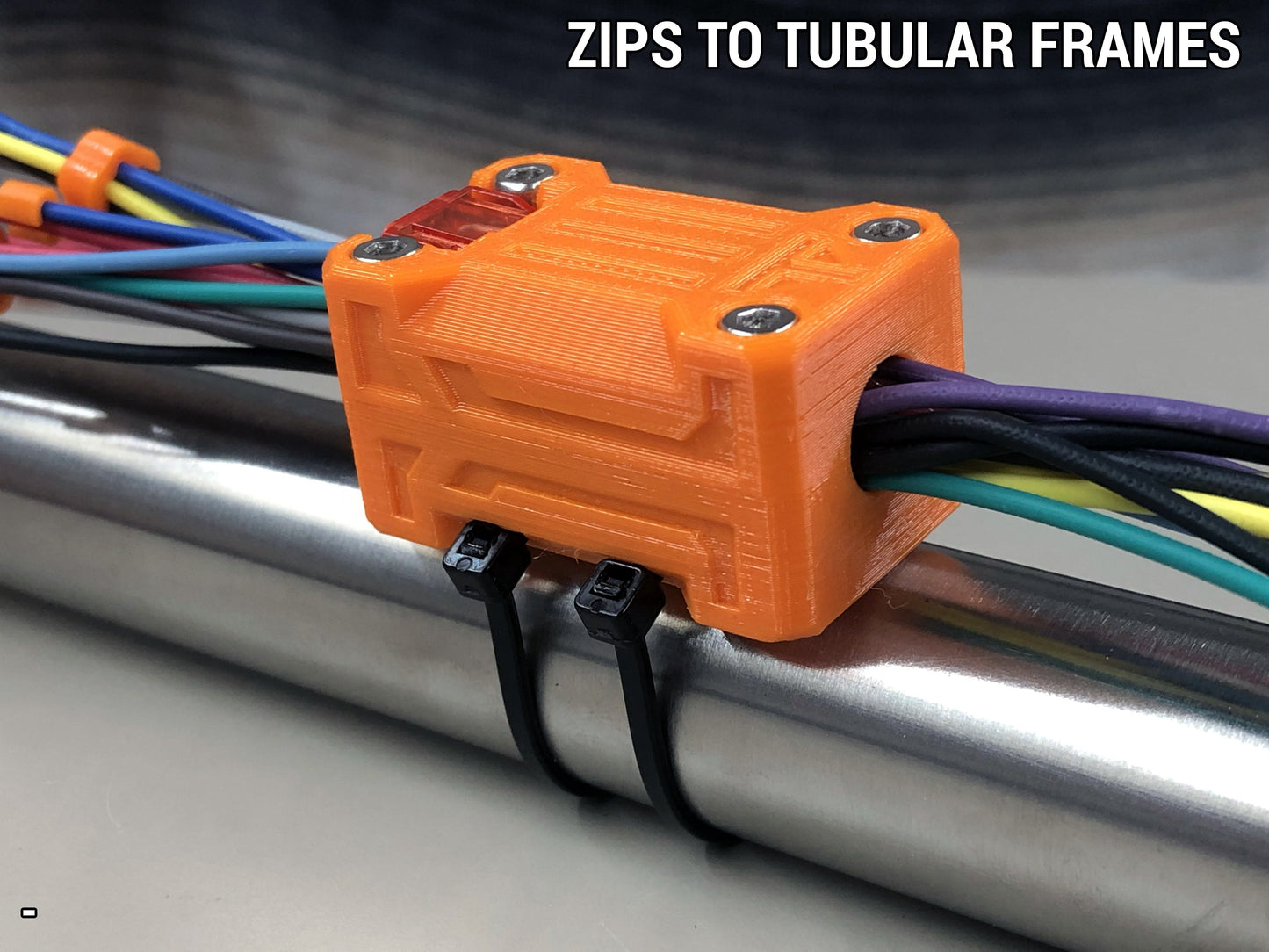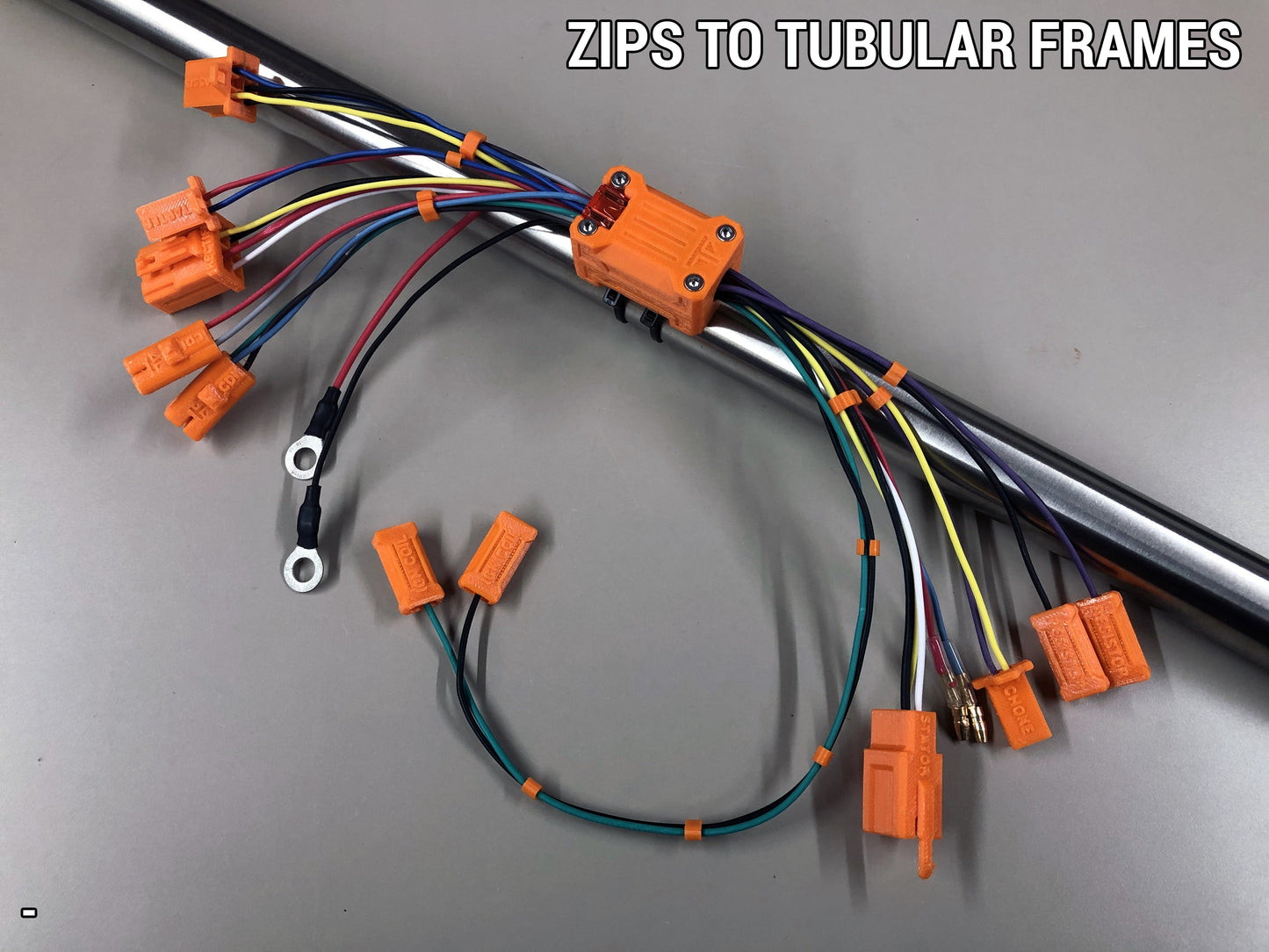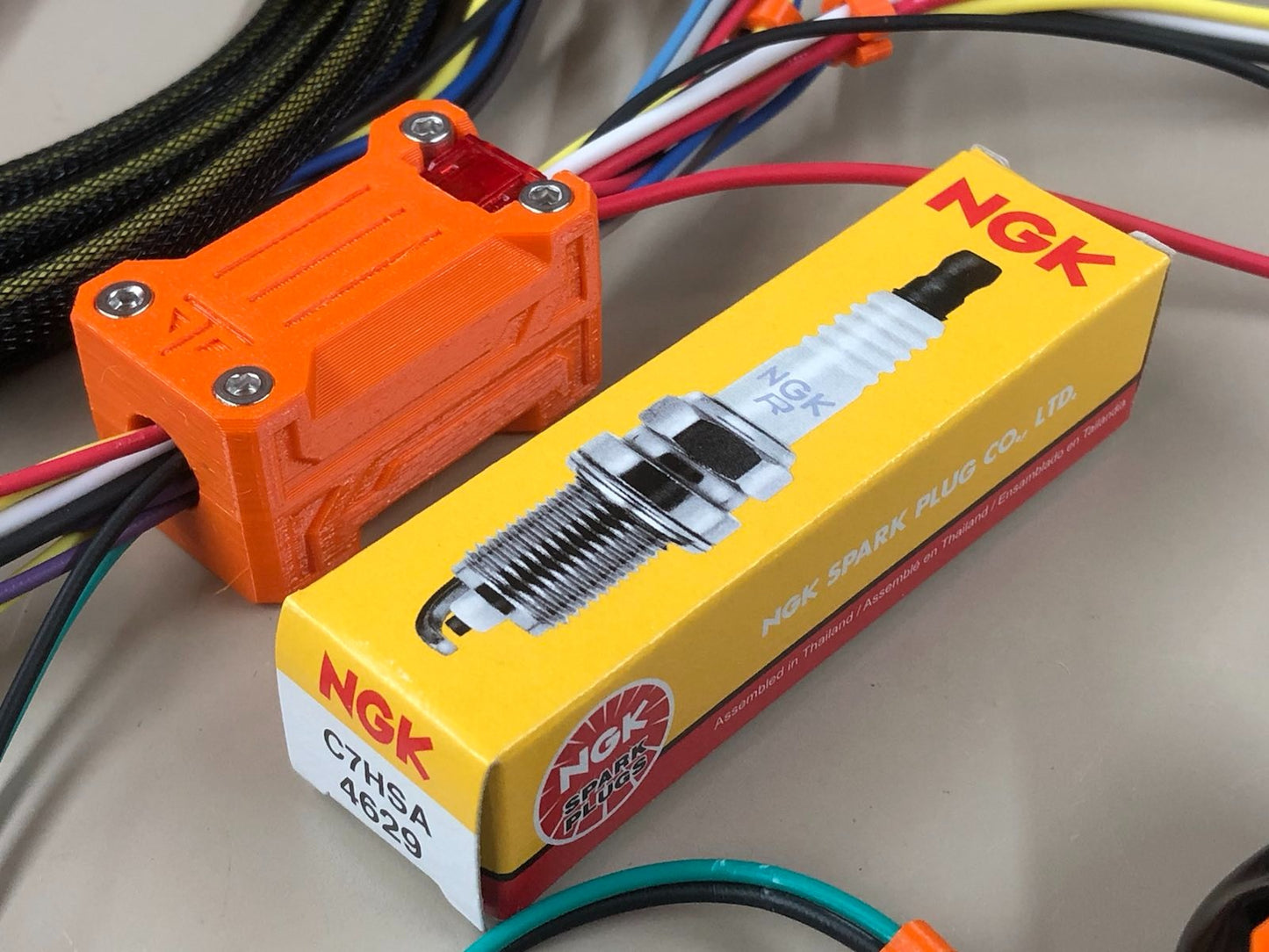 MADE WITH ONLY THE BEST MATERIALS 💎
100% Pure Copper Conductor Wire

Beautiful Polyethelene Flexible Wrap

3D Printed UV-Resistant Connectors

Permanent Self-sealing Heatshrink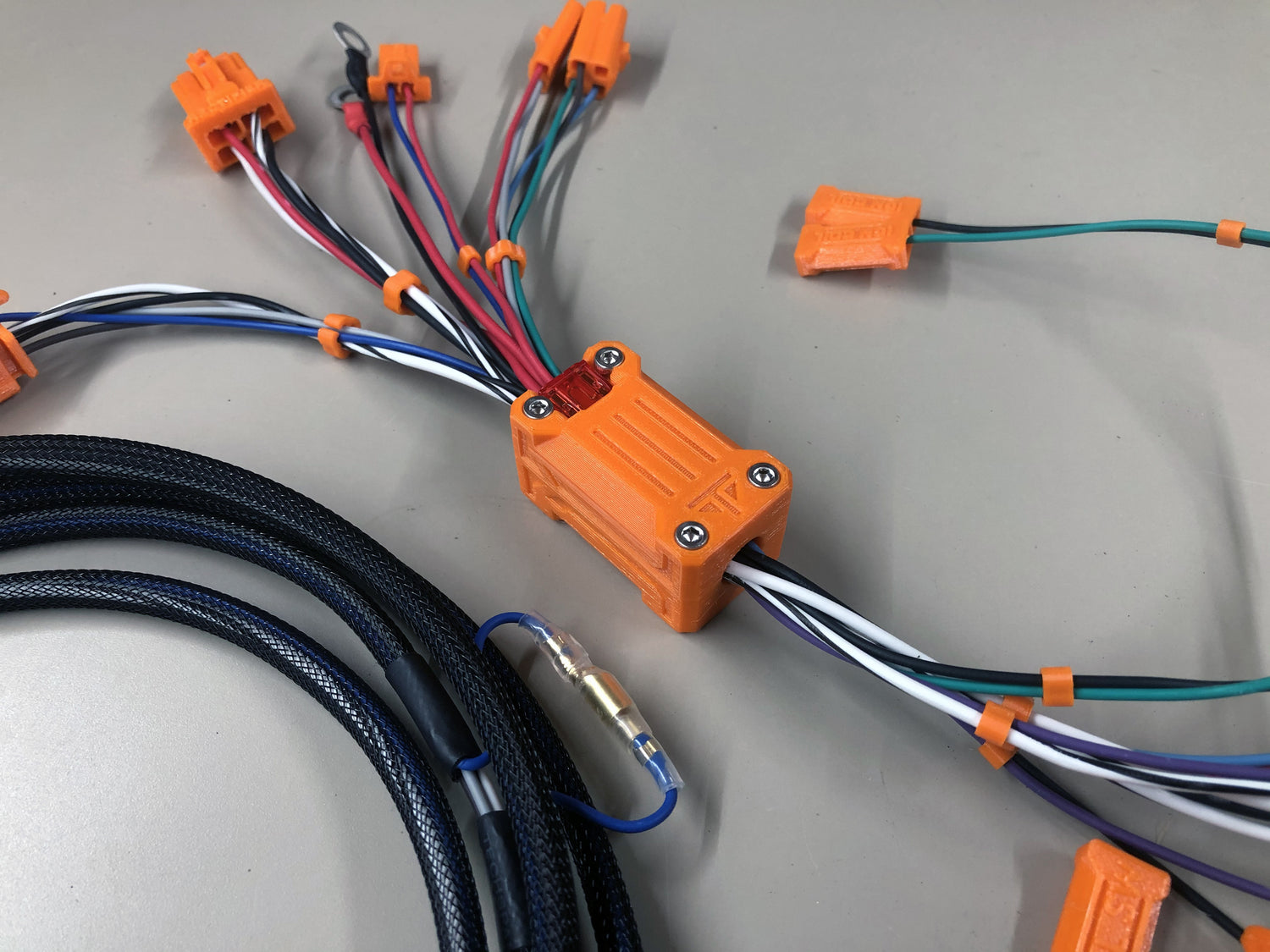 Improved USA connectors that won't crumble with age.
SuperGY6 connectors and fuse holders are all 3D printed right here in the USA. Even the raw plastic material is made and sourced in America!
This is because original nylon connectors tend to crumble and fall apart after a season or two of sun exposure.
The type of plastic used is Polyethylene Terephthalate Glycol (PETG) plastics for strong UV resistance.  PETG is approximately as strong as nylon brand new, but keeps that strength over time despite frequent sun exposure.   This should be the last harness you have to buy for a long while.
All connections clearly labeled!
Every connector on the harness is labeled and tells you exactly where it goes. Absolutely no guesswork or head scratching. Super simple install!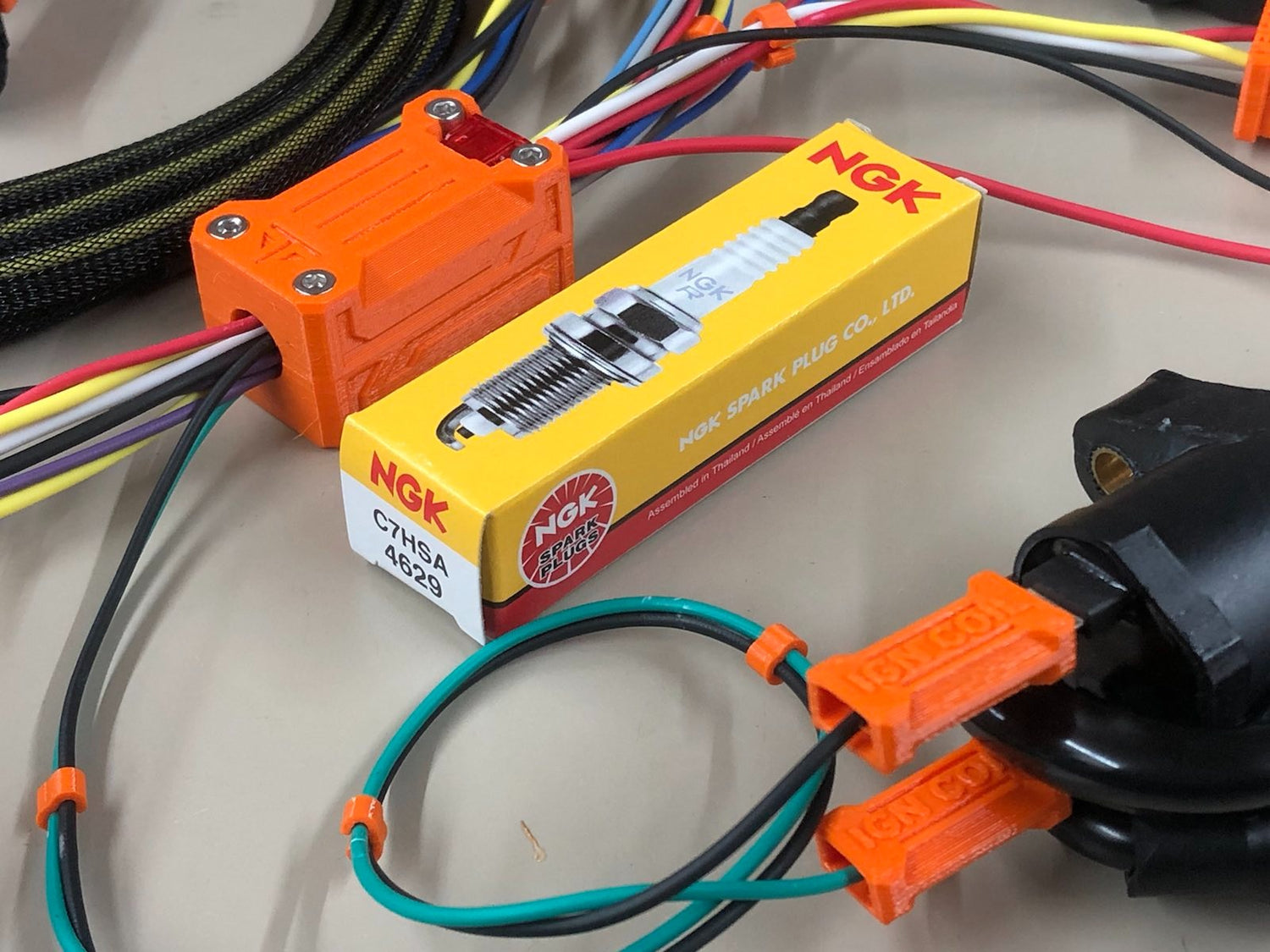 15-minute easy installation.
Harness quickly connects to:
6 and 8-pole Stators (11-pole with upgrade)
AC-fired CDI
Ignition Coil
4-pin Rectifier
Starter Solenoid
Electric Auto-choke
Key and Kill Switches
Your Headlights (double 4mm bullets)
Parts Kit Included ✅
✔️ AC-Fired CDI Module (No Rev-limit)
✔️ Ignition Coil
✔️ Voltage Regulator
✔️ Resistor (for Autochoke)
✔️ Solenoid Relay
✔️ Key and Kill Switches
✔️ Genuine NGK CH7HSA Spark Plug

Frequent Questions
Is this the exact same design as my factory harness?

No this kit is not like your original harness, this is a retrofit kit based on my 20 years of personal experience dealing with GY6 karts and their substandard factory wiring. I've eliminated the common electrical issues that lead to most breakdowns, and focus on nailing the basics with high build quality and reliability in mind.

All of my harnesses are based on the Tomberlin Crossfire 150R wiring design, as it is dead simple to understand and nails the basics of running the engine without adding a ton of bells and whistles that would bloat the price and make things more complicated.

That allows this setup to focus on high build quality, attention to detail during construction, and the very best USA materials.. so when you receive your order installation is fast and done right, it will last years reliably without headaches.
What features are included in the base harness? (before upgrades)

We nail the basics:

Strong spark (AC-Fired CDI Ignition)
Electric starting
12v battery charging (up to 2A standard; or up to 12.5A with upgraded stator & rectifier)
Reliable autochoke (Important to avoid chasing phantom jetting issues)
Headlights on AC power (Lights turn on automatically with the engine)

Things like tail lights, brake lights, horns, speedometers, shifter indicators, and turn signals are not supported. These things would blow my asking price through the roof considering my build time and the materials required, for not much actual benefit.
Can I run LED Lights?

You'll need the dual relay kit option to run LEDs without rewiring. Scroll down for more information on upgrades 👇
What else will I need?

You'll need your existing battery cables, stator (unless you upgrade),
battery, and a pair of headlights. If these are all in good shape you
won't need anything else.
I want a cigarette lighter. Do you take custom one-off wiring requests?

Heck no lol 😆 Everything I make is built by preset patterns so the quality of every single kit I make is consistent and top notch. Any improvemnts I make to the product get applied to ALL new batches going forward, so everyone benefits!

If you've got a great idea for an improvement that would help everyone,
let me know! I might be able to make it work for all if it makes sense.
Upgrade your stator!
Upgrade to the optional 11-pole three-phase stator and rectifier kit to support high-power lighting, big batteries, and all sorts of 12V accessories.

Our stator kit is dyno tested to produce 12.5 amps, supporting up to 160w at idle of whatever 12V devices you want to run!
Note: READ THIS PAGE for information about the flywheel and puller needed. If you have a 8-pole stator now, you've already got the right flywheel!
Upgrade: Dual Relay Kit
Allows you to run LED headlights directly off a SuperGY6 harness.
SEALED long-lasting high quality relays.
Headlights come on with key, not with engine.
Safely puts your CDI on it's own dedicated relay.
Super clean plug-n-play Installation!
Available upgrades
These plug-n-play upgrades can be bundled at a discount now, or installed easily later.
Regular price

$125.00 USD

Sale price

$99.95 USD

Unit price

per

Regular price

$44.95 USD

Sale price

$39.95 USD

Unit price

per

Regular price

$99.00 USD

Sale price

$75.00 USD

Unit price

per
These upgrades are modular, and install on top of the base harness without modifying it.
No rewiring, soldering, or splicing is ever required.
Fast Free Shipping 💨

All harness kits ship free via USPS Priority to all 50 states 🇺🇸
Expect delivery in 2-3 days after shipping.

(Orders under $60 ship for a flat $6)

Normal lead-time to build and ship your harness is 24 hours 💨

Tracking number information is sent to your email when I create the shipment. Be sure sure to enter your correct email address during checkout so you actually receive those status updates.

High demand periods 🕧
I occasionally get a rush of orders all at once and it may take up to 3 days to build and ship your order. These "high demand" periods are usually around holidays, spring time (as things warm up across the country), and in July around the 4th. So please plan ahead when ordering around these times, don't wait until the last minute!


Shipping Policy

Here to help 🤝

Everything I build is meant to install in the easiest way possible, with labels right on the connectors. Hell, the harness is it's own set of instructions!

Installation is a breeze, but if you need any help along the way, you can reach me via FB chat to help answer any questions you might have when hooking things up.

Chat on Facebook
What people are saying 📢
"This sucker plugged right in!"

"Impressed with how easy the wiring harness was to install"

"Spark has been achieved!"

"Bro you killed it... Cart fired right up"

"Harness looks awesome, very well made!!!"

"got er purring like a kitten"

Love to hear it and glad to help!

"Well worth the money, definitely top quality product and fitment"

"Great packaging"

It was the gummy bears wasn't it 😂😂

"Best wiring harness I've ever purchased"

Thank you, you're the best!! 🤝

"Fast shipping and amazing product"
🚫 Disclaimers (Read please 👇)
This item is sold without any warranty express or implied, and is sold without warranty of merchantability or fitness.  This harness is made using the original wiring diagrams from Tomberlin with higher quality materials and construction, but has not been rated by any third-party testing facilities.  As such, this product is sold "as is", with any and all potential faults. 

By purchasing, you agree that you are using this product at your own risk.   Please keep an eye out for problems during use, and let us know right away if you suspect an issue.  We'll use your input to make the product even better.
In the case that you believe your harness is defective or non-functional in some way, cease use immediately and contact us with details.
⚠️ WARNING: This product can expose you to chemicals which are known to the State of California to cause
cancer. For more information, go to www.P65Warnings.ca.gov."
Still on the fence?
I'm surprised you made it this far!
If you need any help, just shoot me a quick chat message on the SuperGY6 facebook page any time. I'm here to help and respond to messages when I get back to my desk around every hour or so during work hours.

Thanks!
- Travis @ SuperGY6 👍
🇺🇸 PROUDLY MADE IN AMERICA 🇺🇸