Regular price
$125.00 USD
Sale price
$99.95 USD
Unit price
per
Sale
Sold out
🇺🇸 PROUDLY MADE IN AMERICA 🇺🇸
FAST FREE SHIPPING TO ALL 50 STATES
FOR GY6 KART / BUGGIES
Note: Flywheel is not included at this price. 
IMPORTANT:  If your engine has an 6-pole stator now, you'll need the larger flywheel meant for 8-pole stators.  I don't carry the flywheels as they've become a pain to source since C19, however there are many sources online for around $30 USD.  To my knowledge there isn't a difference in quality when it comes to source of the flywheel itself.  Also, the flywheel is exactly the same between 8 and 11.  So don't pay more for one if a seller is upcharging just to call it an "11-pole" flywheel.

If you're upgrading from an 8-pole stator, it's perfectly fine to reuse your original flywheel.  It'll fit and work great.  Be sure to grab a flywheel puller to remove your flywheel without damaging it.
Share
View full details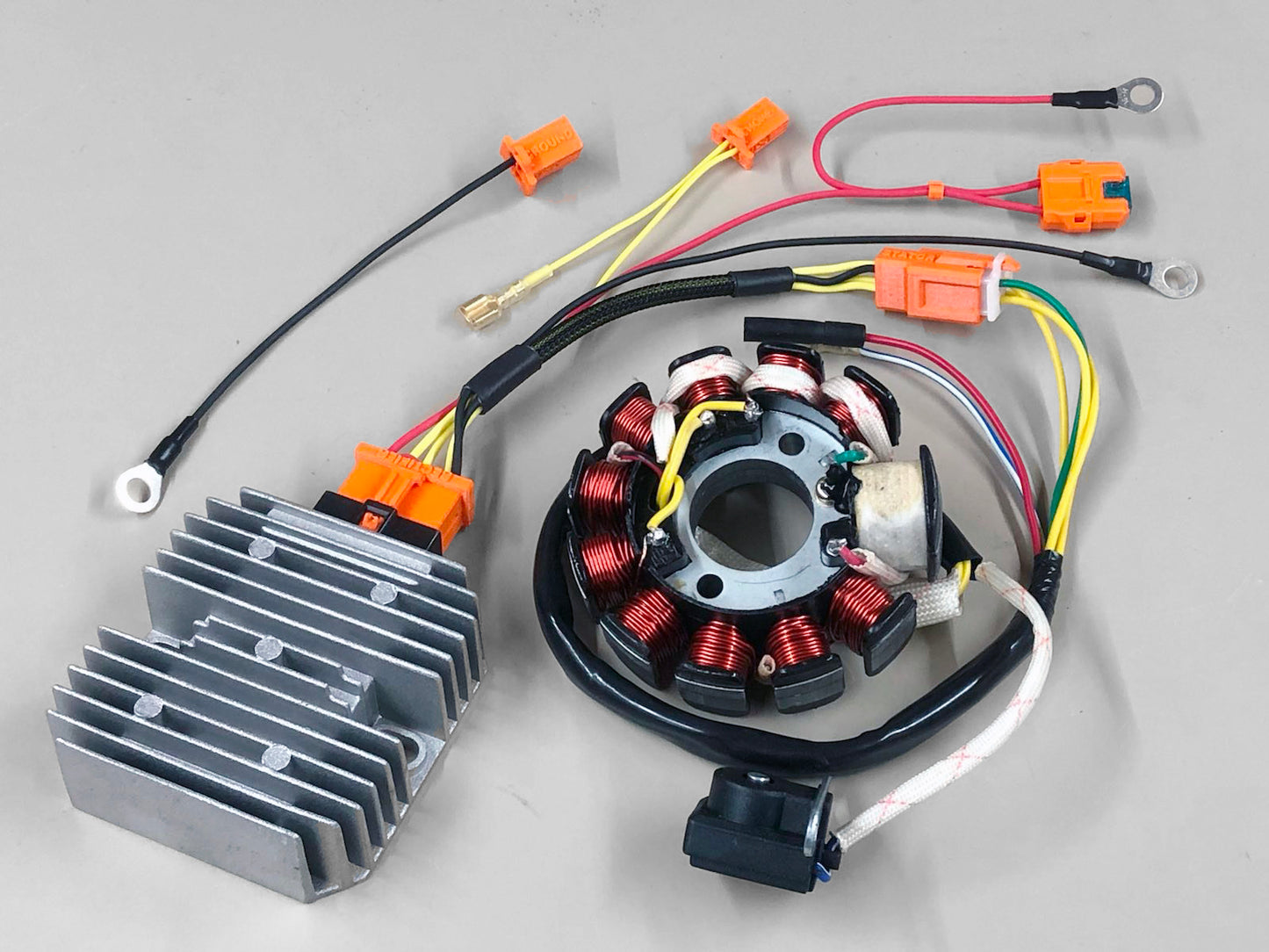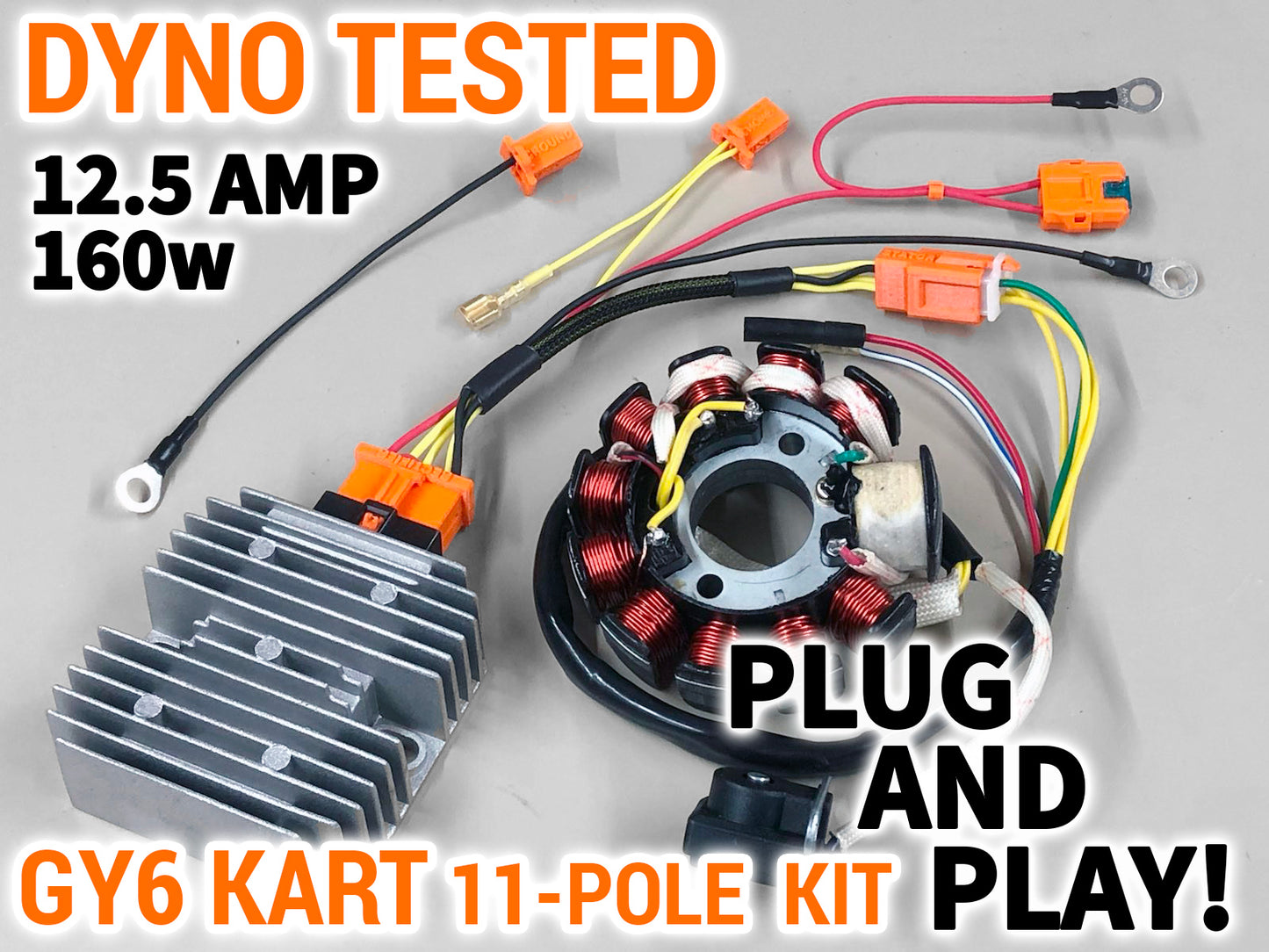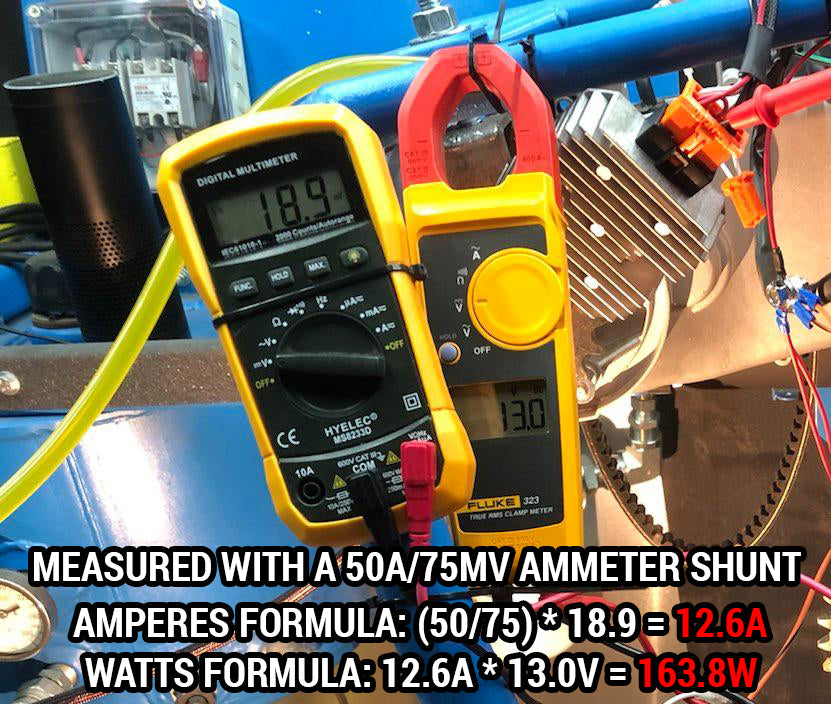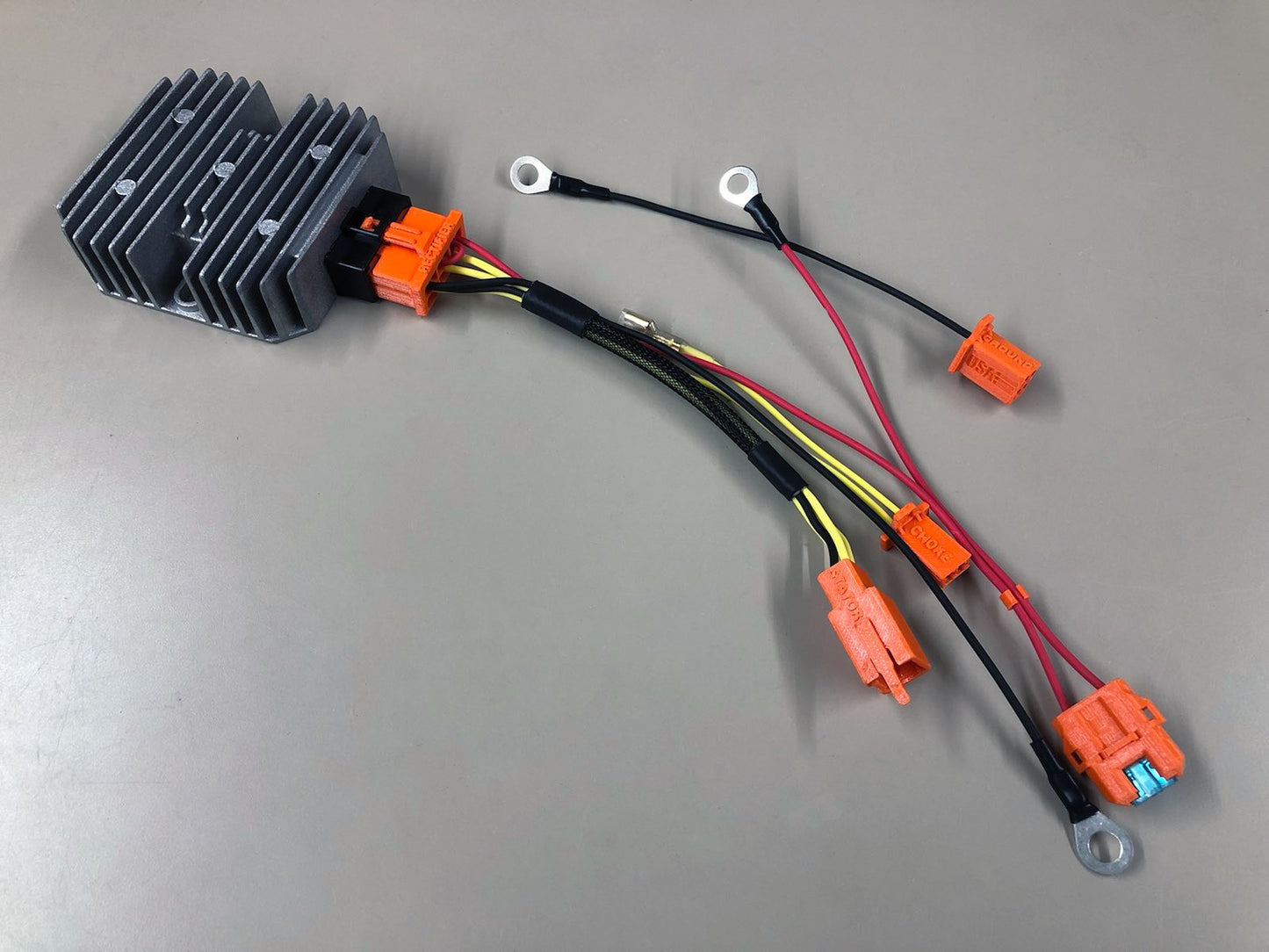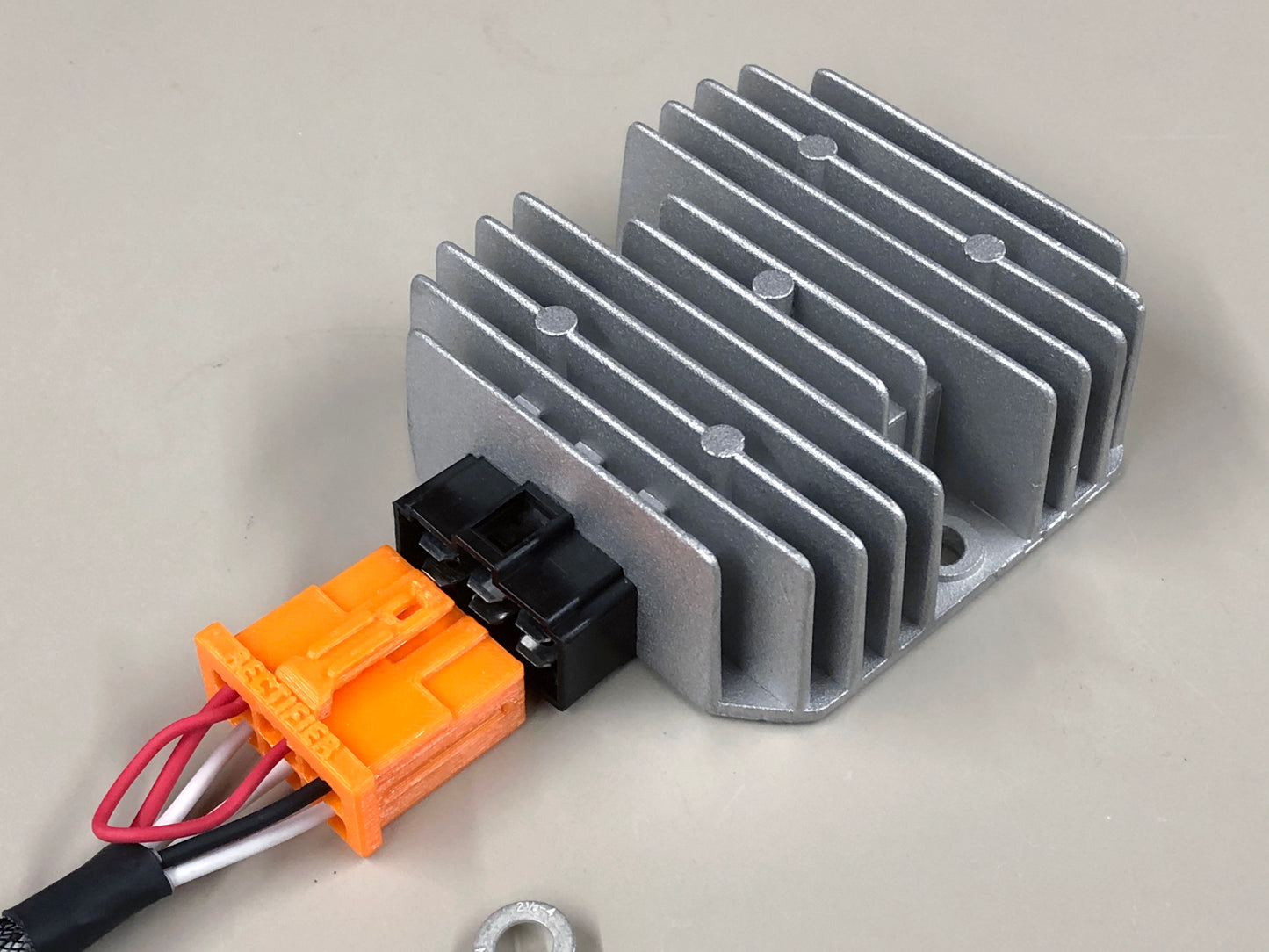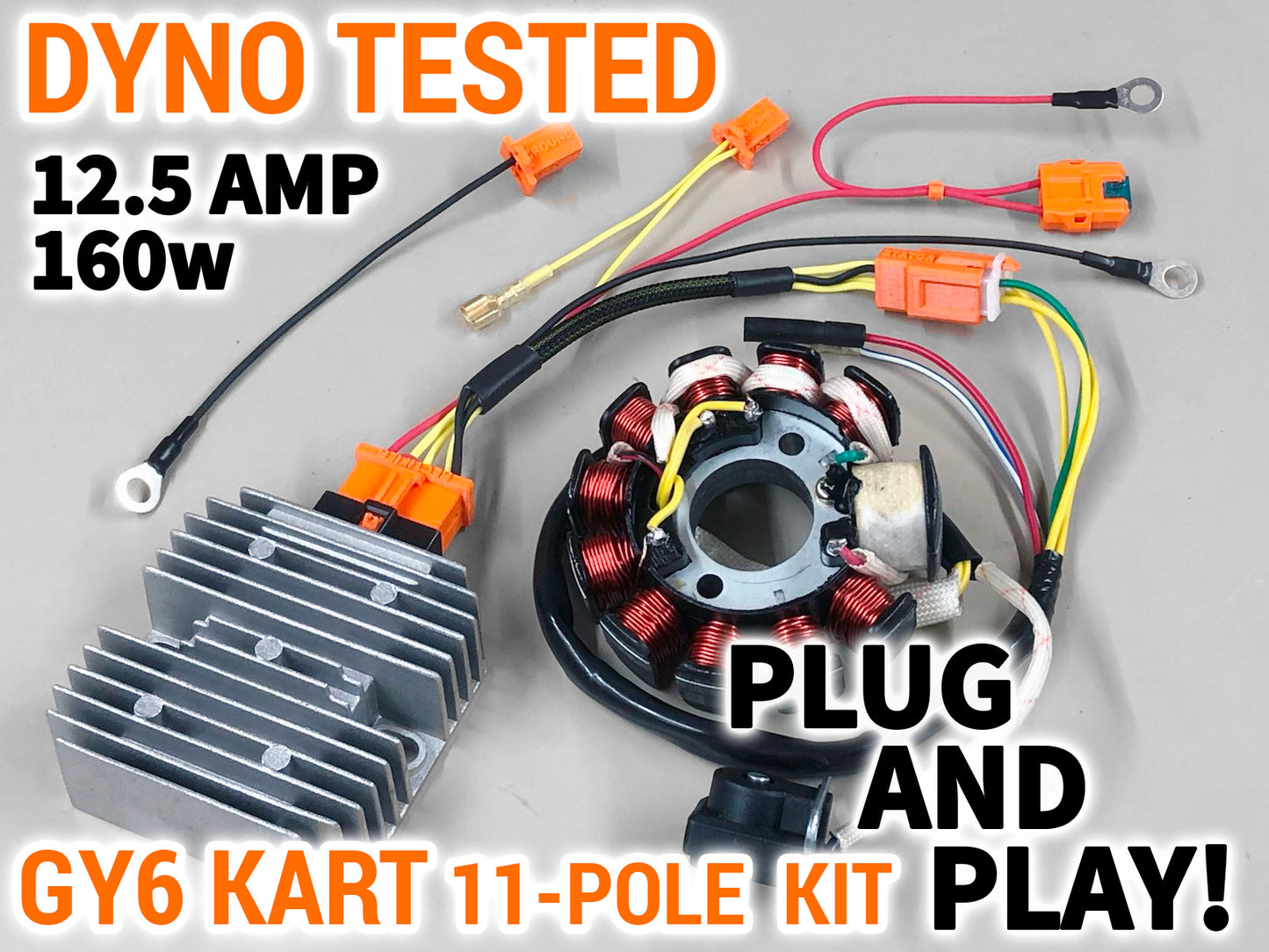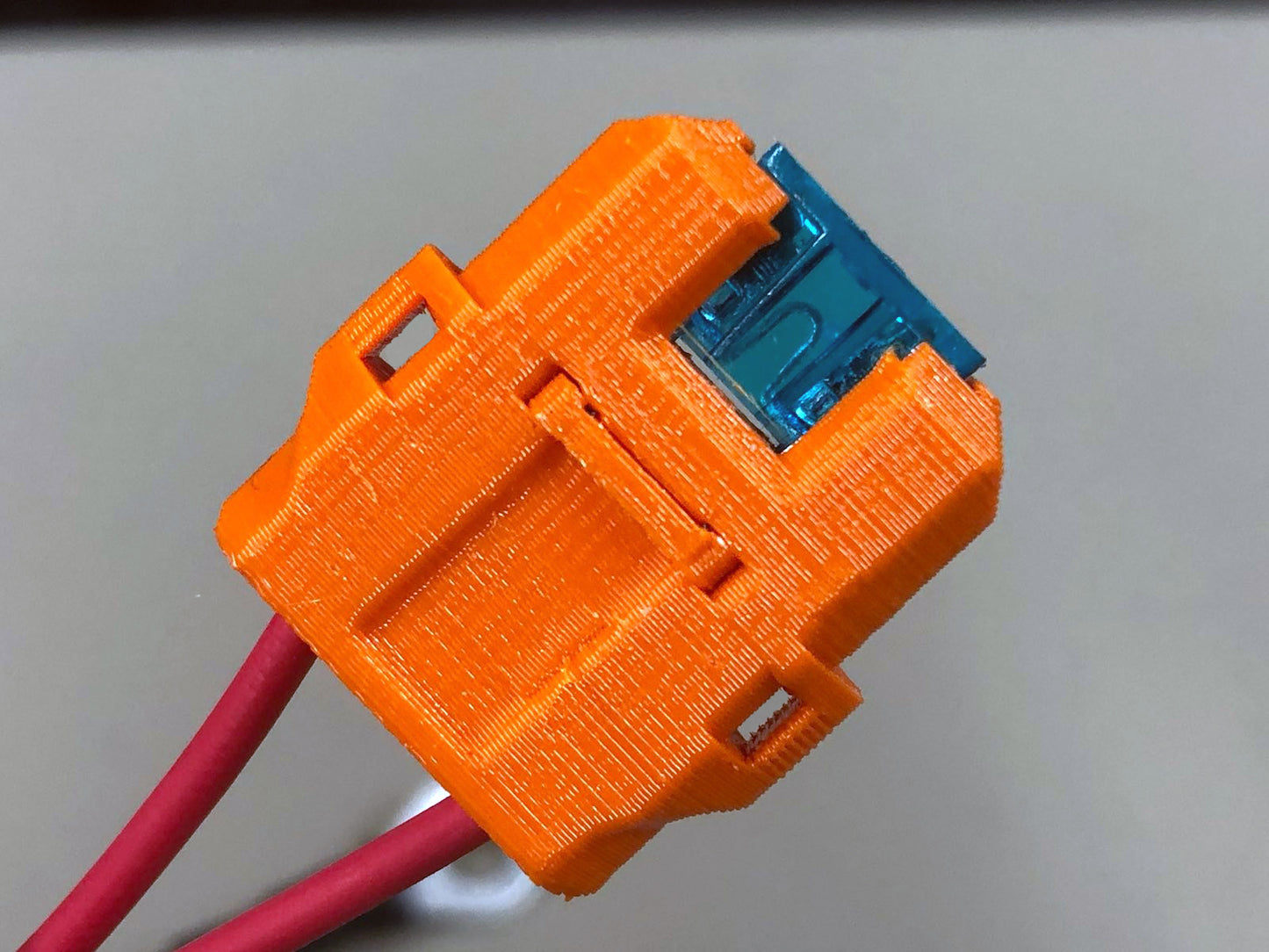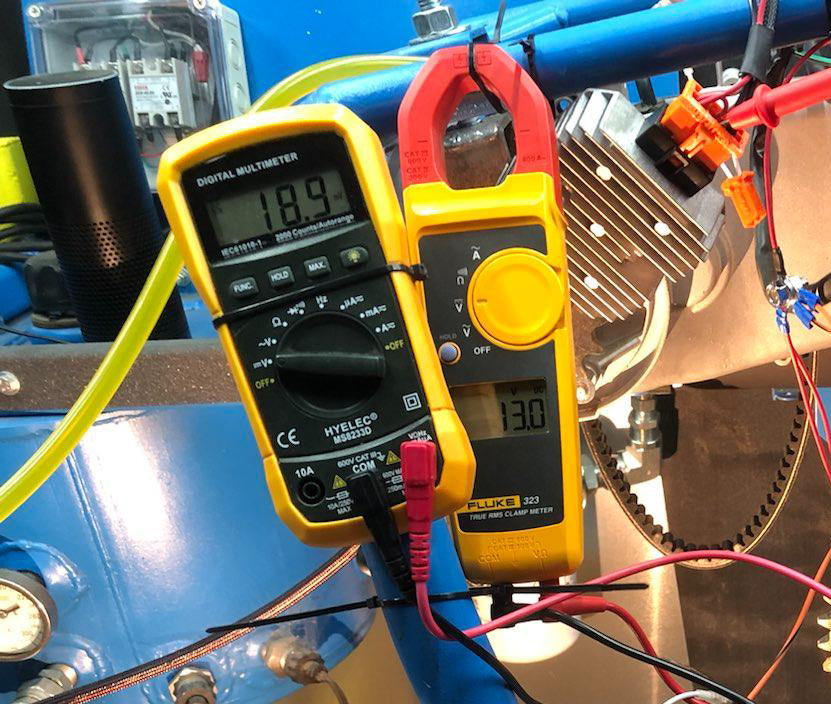 Dyno Test and Results
Measuring device: 50A/75MV ammeter shunt
Load: PWM driven 350W resistive dummy load (lights)
Engine Speed: Idle < 1800RPM
Target minimum charging voltage: 13.0V
A 18.9mV voltage difference was observed across the shunt while maintaining idle and increasing the load on the system as such to cause a drop from the typical 14.5V charging output to down to 13.0V. Let's do the math:
(50A MAX SENSOR RANGE / 75mV PER AMP) * 18.9mV = 12.6 AMPS CONTINOUS
This works out to just over 160 watts of continuous DC electrical capacity for your lights and accessories while still maintaining healthy battery charge rates.
Frequent Questions
Will the battery still charge at full rated load 160W?

Yes. Lead-acid batteries are considered "fully charged" at 12.75V.

Since our 160W rating was captured at 13.0V charging voltage, this means there is a little extra buffer to allow the battery to maintain a positive charge rate. Keep in mind though, this will amount to a trickle at full accessory load.

It's good practice to derate maximums when planning out a project, so please be sure to take that into account.
Will this work on with my original GY6 wiring harness?

Yes, 100%. The no-rewire adapter in this kit handles all of the charging wiring and you'll just leave your original connectors unplugged and tucked safely out of the way.
Will I need to rewire my headlights?

If your headlights turned on with your keyswitch (while the engine is off), you won't need to rewire them because they're already wired DC.

However, if your headlights come on when the engine starts, you'll need to rewire and run them (and anything else wired AC) directly from the battery behind a switch. Careful not to exceed the amp rating of the switch, or run a relay.

If you have a SuperGY6 harness, my dual relay kit handles all this for you with a 30A dedicated lighting relay to safely switch the maximum output from this stator upgrade.
Can I run LED Lights?

You'll need the dual relay kit option to run LEDs without rewiring. Scroll down for more information on upgrades 👇
What size puller will I need to remove the flywheel?

The correct flywheel puller is M27x1.0 reverse thread. I don't carry them because you can get them for $10 on Amazon and I can't beat that. It pulls from the center to avoid warping the flywheel. Do not try to use a 3-jaw puller.
What is the tightening torque value for the flywheel nut?
MADE WITH ONLY THE BEST MATERIALS 💎
100% Pure Copper Conductor Wire

Beautiful Polyethelene Flexible Wrap

3D Printed UV-Resistant Connectors

Permanent Self-sealing Heatshrink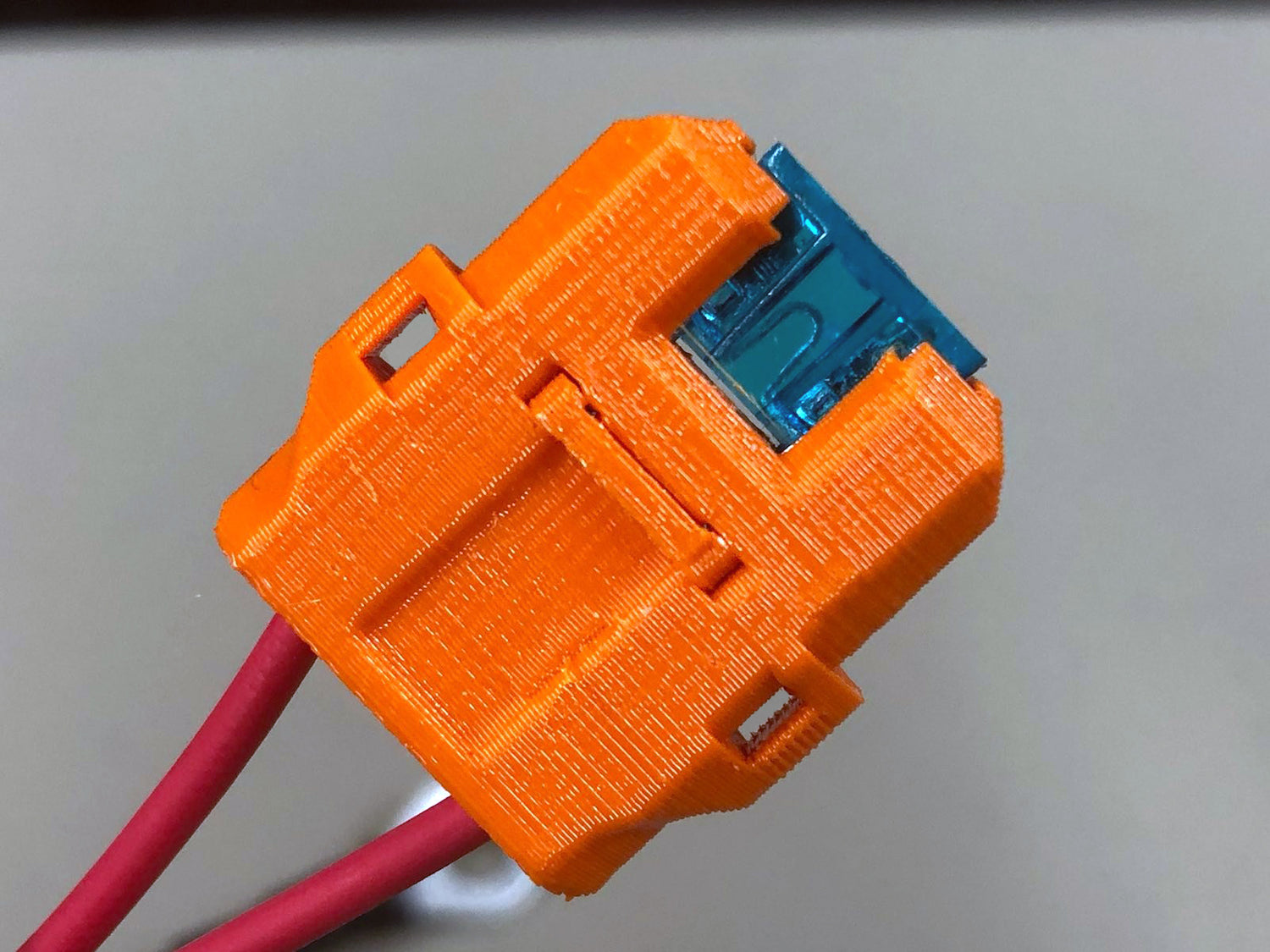 Improved USA connectors that won't crumble with age.
SuperGY6 connectors and fuse holders are all 3D printed right here in the USA. Even the raw plastic material is made and sourced in America!
This is because original nylon connectors tend to crumble and fall apart after a season or two of sun exposure.
The type of plastic used is Polyethylene Terephthalate Glycol (PETG) plastics for strong UV resistance.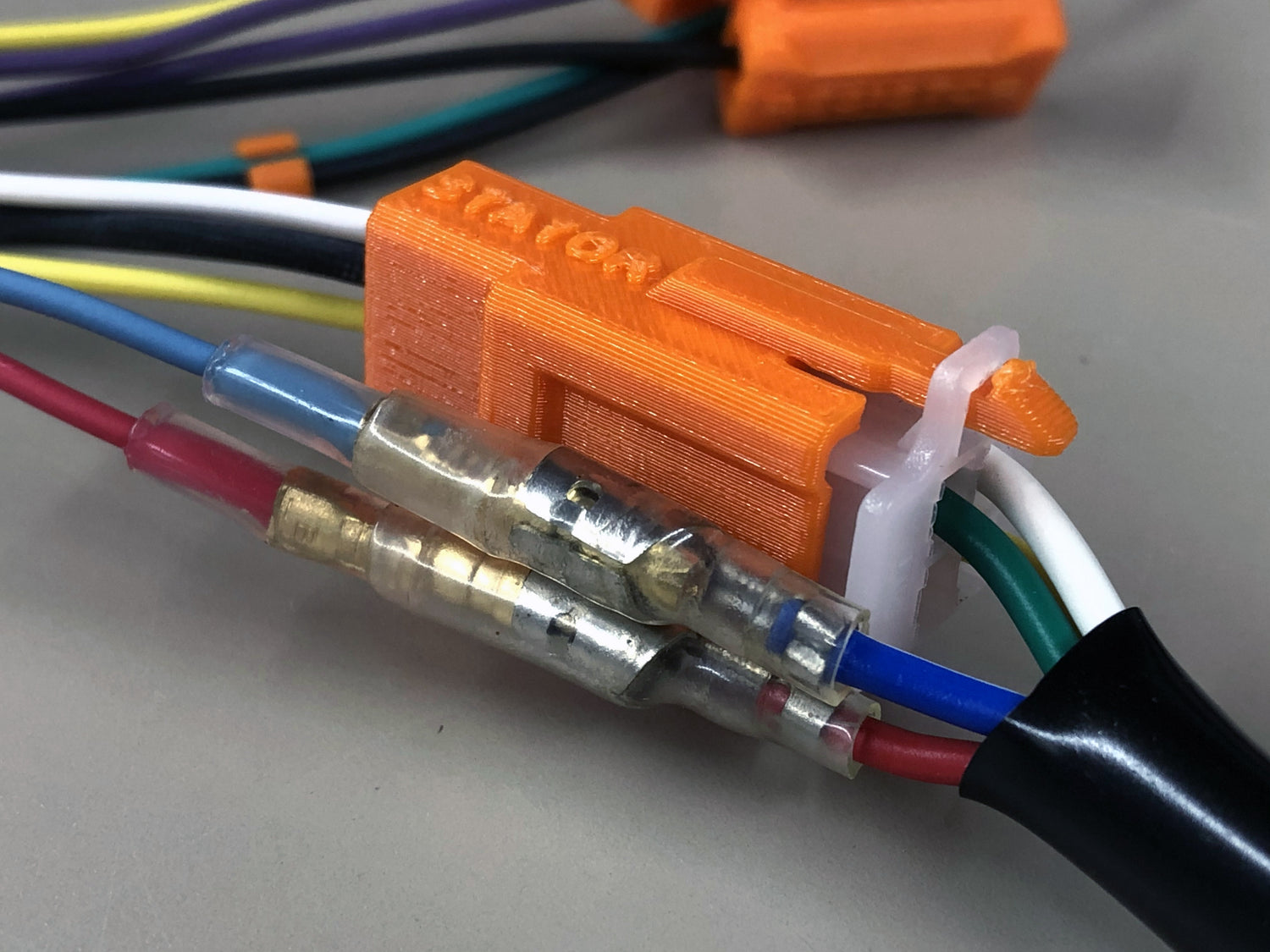 Each connector clearly labeled.
Connectors are labeled and tell you exactly where they go. Absolutely no guesswork or head scratching. Super simple install!
Upgrade: Dual Relay Kit
Allows you to run LED headlights directly off a SuperGY6 harness.
SEALED long-lasting high quality relays.
Headlights come on with key, not with engine.
Safely puts your CDI on it's own dedicated relay.
Super clean plug-n-play Installation!
Additional upgrades
These plug-n-play upgrades can be bundled at a discount now, or installed easily later.
Regular price

$44.95 USD

Sale price

$39.95 USD

Unit price

per
All upgrades are modular, and install on top of the base harness without modifying it.
No rewiring, soldering, or splicing is ever required.
Fast Free Shipping 💨

All harness kits ship free via USPS Priority to all 50 states 🇺🇸
Expect delivery in 2-3 days after shipping.

(Orders under $60 ship for a flat $6)

Normal lead-time to build and ship your harness is 24 hours 💨

Tracking number information is sent to your email when I create the shipment. Be sure sure to enter your correct email address during checkout so you actually receive those status updates.

High demand periods 🕧
I occasionally get a rush of orders all at once and it may take up to 3 days to build and ship your order. These "high demand" periods are usually around holidays, spring time (as things warm up across the country), and in July around the 4th. So please plan ahead when ordering around these times, don't wait until the last minute!


Shipping Policy

Here to help 🤝

Everything I build is meant to install in the easiest way possible, with labels right on the connectors. Hell, the harness is it's own set of instructions!

Installation is a breeze, but if you need any help along the way, you can reach me via FB chat to help answer any questions you might have when hooking things up.

Chat on Facebook
Proud work makes great reviews 🤝
"This sucker plugged right in!"

"Impressed with how easy the wiring harness was to install"

"Spark has been achieved!"

"Bro you killed it... Cart fired right up"

"Harness looks awesome, very well made!!!"

"got er purring like a kitten"

Love to hear it and glad to help!

"Well worth the money, definitely top quality product and fitment"

"Great packaging"

It was the gummy bears wasn't it 😂😂

"Best wiring harness I've ever purchased"

Thank you, you're the best!! 🤝

"Fast shipping and amazing product"
🚫 Disclaimers (Read please 👇)
This item is sold without any warranty express or implied, and is sold without warranty of merchantability or fitness. This product is sold "as is", with any and all potential faults. 

By purchasing, you agree that you are using this product at your own risk.   Please keep an eye out for problems during use, and let us know right away if you suspect an issue.  We'll use your input to make the product even better.
In the case that you believe your harness is defective or non-functional in some way, cease use immediately and contact us with details.
⚠️ WARNING: This product can expose you to chemicals which are known to the State of California to cause
cancer. For more information, go to www.P65Warnings.ca.gov."
Still on the fence?
I'm surprised you made it this far!
If you need any help, just shoot me a quick chat message on the SuperGY6 facebook page any time. I'm here to help and respond to messages when I get back to my desk around every hour or so during work hours.

Thanks!
- Travis @ SuperGY6 👍
🇺🇸 PROUDLY MADE IN AMERICA 🇺🇸